1
« on: January 20, 2023, 10:37:58 am »
| | |
| --- | --- |
| | Costumes |
Issue 5 brings many Quality of Life improvements and fixes to the costume creator.
Costume Presets
Costume presets have been fixed on Rebirth! Use them to kickstart your imagination
or to quickly pull up a base template when making a new suit!
We've even added a number of Rebirth-specific presets and upgraded some old ones with Rebirth-specific parts on male and female models (huge versions coming later, with the final chapter of the asymmetric torso revamp). Look for the following new presets:
Dia de los Muertos, Golden Age, Hippie, Incandescence, Neon, Pilot, Pirate 1, Pirate 2, Prismatic, Radium, Sand, Spectral, Super Spy, Winged 1, and Winged 2.
Extended Natural Skin Tones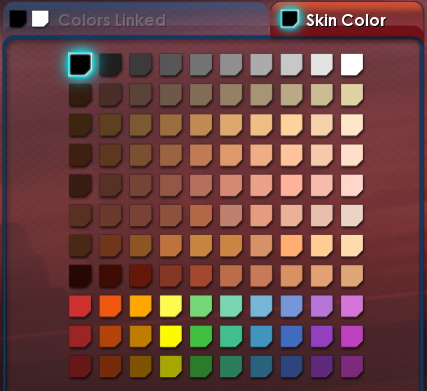 We've added 4 new carefully crafted and curated rows of natural skin tones to the character creator. There is now a much better range of golden, olive, and ruddy hues available! All have been tested for in-game performance by our dev team.
Random Color Selection on New Characters
Ever feel creatively blocked by seeing the peach skin tone and black and white tights colors upon making a new character? Us too. So we decided to randomize the initial color selections suggested by the character creator when making a new character. This with the fixed costume presets should make new character creation a breeze!
Surgical Four Color Support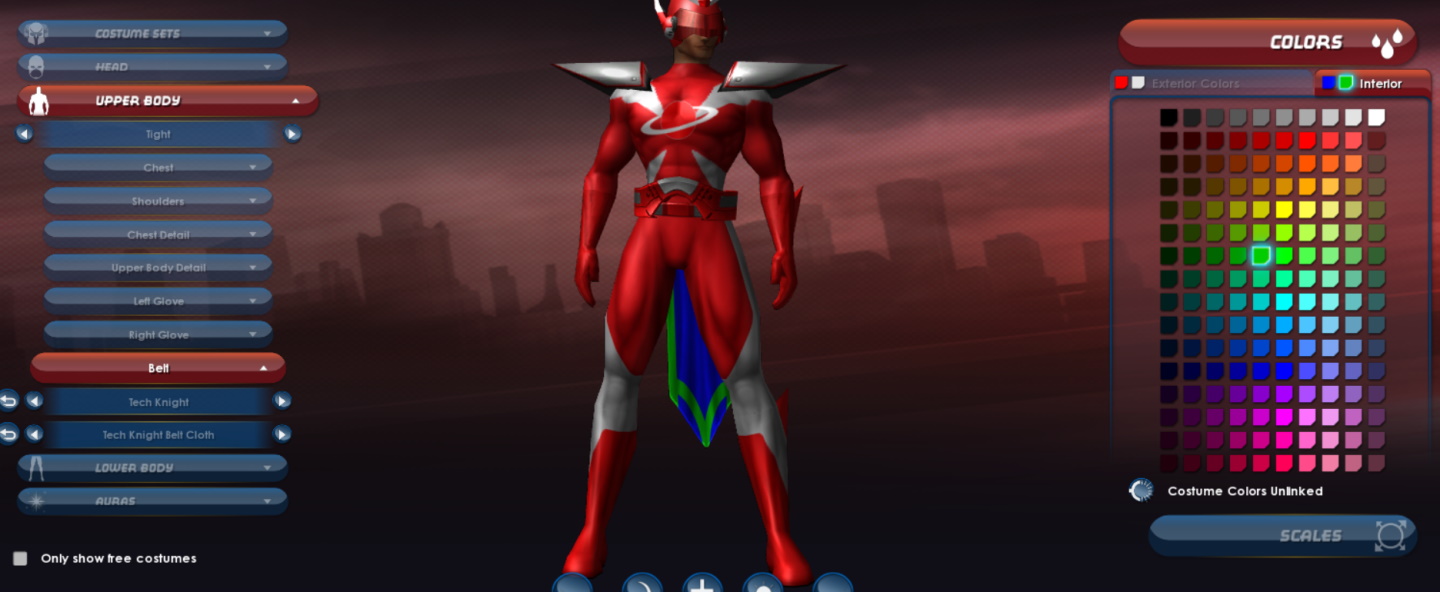 No longer do you need to do the global color workaround to tweak the inside colors of cape-driven costume parts. Pieces that use cape technology but are not cataloged as capes now pull up the 4-color customization options. Now you can easily recolor the Wedding Tux and Cybertech coattails, the cloth details on your Cosmic Corsair, Tech Knight, Gunslinger belts, and Wedding Veil--all with quick, convenient ease!
New Emblem Packs
Rebirth Emblem Pack 3
Get your animals, meta-domino masks, sweet treats, green thumb, and retro gamer on with this latest chest and shield emblem pack!
Options include popsicles, popcorn, cupcakes, cacti, koi, squid, elephants, rabbits, single-button joysticks, health vials, and more!
Look for them at the bottom of the Symbol sub-category of Chest Details or Shield Emblems, starting with Angel's Food and ending with Unicorns.
Graffiti Emblem Pack
After something a little grittier or with an improvised vibe? Look for the new Graffiti Symbols sub-category on Chest Details or Shield Emblems.
Many familiar favorites, including lightning bolts, mystic symbols, and clenched fists have been given the graffiti treatment. Also look for Rebirth-specific graffiti symbols like the twin rats, rabbit, and smiley face here as well!
Note that the new crossed-out Arachnos emblem is unlocked via the Spider Smasher badge in-game. If you want to sport that one, you have to earn it!
Integrated Tights
New Undertights Options
All existing male and female integrated tights options have been updated to include ALL of Issue 4's glowing and animated skins. Want a halter top on your specter? Or a pair of modesty briefs over your plasma being? You can do that now.
For easier identification of integrated tights options, the first sub-entry on each integrated tights bundle now shines out with Neon underskin! The remaining glowing skins have been sandwiched between the natural skin options and Bioluminescence. Animated Sand can be found next to Stone.
Additionally, all female integrated tights have had the legacy Cryptic female Muscular texture added to their under-tights sub-options.
Lastly, a new high-hipped Bikini 2 has been added to female options, fully integrated. This pairs with the High Hipped Leotard texture for a complete bathing suit look or can be mixed and matched with other pant options for a more saucy, youthful vibe!
Classic Cryptic and Paragon Options now integrated
Multiple classic tights options from the Cryptic and Paragon era have been retrofitted with the full integrated tights library, including glowing underskins!
On male chests, look for newly integrated Tank Top, Tanker, and Tee Shirt options. On females, look for integrated chest and hip versions of Angelic Plus, Excess Plus, and Imperial Dynasty. Female chest-only legacy items now integrated include the Leather corset and Tank Top.
(Some redundant top-level tattoo options have been consolidated under the new integrated options.)
Diversified Gloves
A majority of diversified gloves, which permit customization of wrist textures and colors independently from gloves, now include all Rebirth Issue 4 glowing and animated skins. Each can be found alphabetically amongst the sub-options on each diversified glove.
Gloves supported include Barbarian Ring, Spines, Cloud Bracer, Dragon Bracer, Overguard, Plant with Leaves, Small Flared, Small Padded, Small Pointed, Tai, Tied, and Wristband.
Misc.
The female Gunslinger belt with bustle and cape detail now offers an alternate version without stripes and a solid tintable bib.